Lead generation for business, also known as generating business leads, is a method of attracting the attention of potential buyers with the goal of increasing future sales. It plays an essential role in the sales process of many different types of businesses.
A lead is a potential customer who has expressed interest in a company's goods or services but may not yet be eligible to make a purchase. They are potential clients who a business hasn't yet transacted business with but with whom it has reason to assume they might do so in the future.
How Lead Generation Has Changed
We can now produce leads based on precise criteria and facts, unlike in the past when lead generation involved buying lists of names and sales staff cold calling people at home. Businesses gather data about prospective customers before customizing marketing strategies and sales presentations to suit the needs of the customers.
In addition to some of the old outbound marketing approaches, this is primarily accomplished through digital platforms (more on that below). The sales cycle can be more productive with effective lead generation, and new customer acquisition can be more successful more often.
The Significance of Generating Business Leads
The best way to finish a transaction is when a lead finds your brand on their own and turns into a paying customer without your help. The worst thing that can happen is that you talk to someone who doesn't want or need your products or services but still gets marketing and sales messages.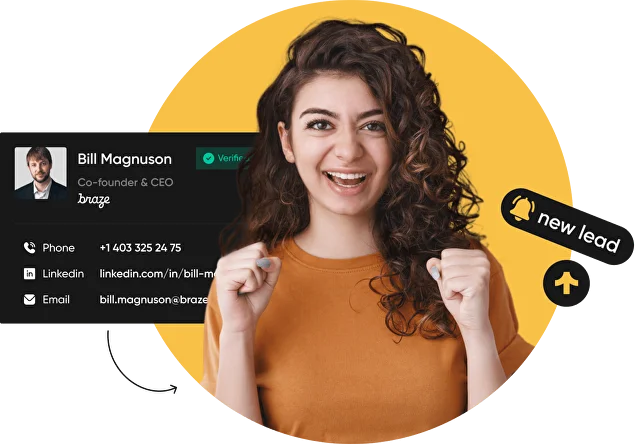 The worst-case scenario is extremely unlikely, and the best-case scenario is uncommon. In-between the two, sales lead generation assists in locating potential consumers who are only waiting for the right push to complete a transaction. The following advantages come with lead generation:
1. Target the right clients
Sales lead generation is typically used to identify prospects who have previously shown interest in the goods and services offered by the firm. This enables the business to concentrate all future marketing and sales efforts on customers who have a higher likelihood of actually making a purchase of the good or service.
2. Boost brand recognition
Sales lead generation can aid in boosting brand recognition. Leads indicate interest in your brand, and by piqueing that curiosity, you assist them in learning more about it, its principles, its goods and services, as well as its characteristics and advantages.
3. Data gathering
Generating sales leads is also a great chance for you to compile information on your prospects. You can gather information on your leads' exposure to your business, their interest in your goods and services, the marketing strategies that are most effective in attracting them, the best ways to communicate with them, their requirements and preferences, etc.
You can better satisfy the demands of your customers by customizing your marketing and communication methods, as well as your products and/or services, by gathering this wealth of information.
4. Brand loyalty
By finding and nurturing leads, businesses can build large groups of people who are interested in the goods and services they offer. The development of this community encourages long-term brand loyalty.
Comparing Lead Quantity and Quality on Business Leads
The goal of many marketing departments is to produce as many leads as they can. On the surface, this emphasis on lead volume is logical—the more leads you produce, the more probable it is that some of them will turn into paying clients.
However, since generating sales leads requires a lot of time, effort, and money, sales teams frequently place a greater emphasis on the quality of leads. A quality lead is a potential customer who clearly needs your product or service, has the intention to buy it, and has the financial resources to do so.
These three criteria are pretty much the same for everyone, but different businesses may have other requirements for high-quality leads.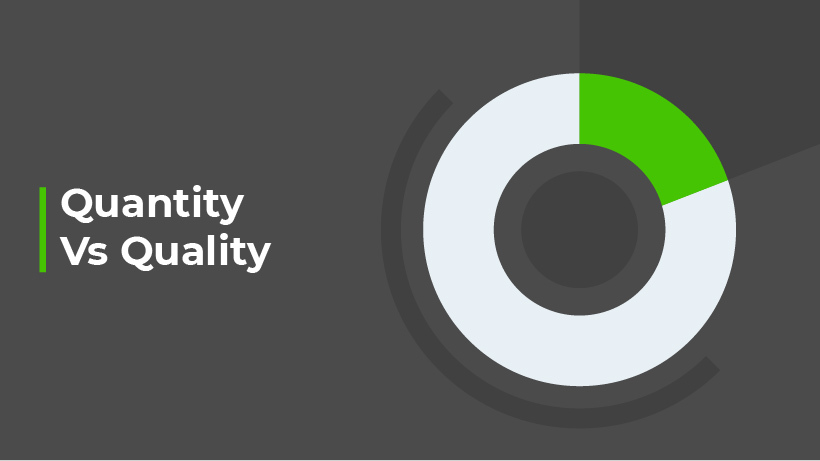 A corporation can significantly raise the rate at which leads become customers by concentrating on quality leads. A greater conversion rate will provide your business the assurance it needs to devote more time, money, and resources to lead generation, which will in turn encourage the creation and conversion of more leads.
Your long-term return on investment in lead generation will grow and you'll reach economies of scale more quickly if you concentrate on quality leads. You may quickly increase your customer base because quality leads convert more quickly into paying customers.
You may swiftly grow and free up resources by developing a customer base so that you can both target and retarget potential consumers.
However, there are several disadvantages to purchasing quality leads. An excessive concentration on producing high-quality leads may cause a sales staff to neglect other crucial responsibilities, like following up with current clients.
Furthermore, all lead generation for sales is somewhat dangerous, whether it is centered on lead quantity or quality. Even high-quality leads have the ability to back out at the last minute, costing the business all the time, effort, and cash it has expended trying to convert them up to that point.
Various Certified Lead Types
Both qualified leads and leads overall are not created equal. Depending on their level of interest in your goods and services or where they are in the customer lifecycle, leads can be qualified:
1. Marketing qualified lead (MQL):
A marketing qualified lead (MQL) is a person or organization that has interacted with your marketing team's outreach efforts but is not yet ready to be contacted by the sales teams. They are people who have expressed interest in your goods and/or services, but you need to learn more about them in order to give them serious consideration.
2. Sales-qualified lead (SQL):
An organization or individual that has expressly shown interest in becoming a paying customer of yours is referred to as a sales-qualified lead. A sales-qualified lead typically qualifies as such because they voluntarily provided you with information indicating their interest in your goods and/or services.
3. Product-qualified lead (PQL):
A person or organization who has utilized your product and/or service and subsequently indicated interest in becoming a paying customer is known as a product-qualified lead. Companies that offer free trials or samples of their goods or services typically have leads that are qualified for their items. Because they have actually tried your product or service and have a high likelihood of conversion, product-qualified leads are important.
4. Service-qualified leads (SQL):
A person or organization who indicates to your customer service or sales staff that they are interested in purchasing your product and/or service is known as a service-qualified lead. Because people are really approaching you and offering to buy whatever it is that you are selling, this is the most qualified kind of lead. An existing customer wishing to upgrade to a more expensive version of your product or service could also be a service-qualified lead.
The Top 6 Sites to Purchase Business Leads
The quickest approach to find potential clients and maintain your sales funnel full of prospects is to purchase business leads. Depending on your buyer personas and client kinds, top lead sellers have extensive databases of business profiles, including verified contact information, that you can buy.
We compared dozens of leading providers and took into account characteristics important to small businesses in order to identify the finest lead generation platforms to buy leads from.
Here are the top six venues to purchase business leads, as determined by our analysis of the most well-known websites:
Lusha: Great place to buy leads for small companies needing a free source for basic lead generation
Salesfully: Great lead-buying option for small businesses engaged in business-to-consumer (B2C) selling
UpLead: Excellent lead list database for businesses wanting high-end intelligence on business-to-business (B2B) leads
D&B Hoovers: Best place to obtain qualified B2B leads based on buying intent
LinkedIn Sales Navigator: Best overall lead provider for businesses looking to connect one-on-one with key decision-makers
FindEmails.com: Ideal for sales teams exclusively seeking to buy business lead lists with prospect email addresses
| Provider | Starting Price | Free Trial | CRM Integration Available | Mobile App |
| --- | --- | --- | --- | --- |
| Visit Lusha | Has a free plan; paid plans start at $29 user/month | 14 days | Yes, on Premium and Enterprise plans | ✕ |
| Visit Salesfully | $29 per month for unlimited credits | 5 days or 30-day money-back guarantee | ✕ | ✕ |
| Visit UpLead | $74 for 2,040 credits | Five trial credits | Yes, on all plans | ✕ |
| Visit D&B Hoovers | Customized | Yes, but no details on website | Yes, but only with more expensive Enterprise-level CRMs | ✕ |
| Visit LinkedIn Sales Navigator | $79 per license | 30 days | Only in Enterprise plan | ✓ |
| Visit FindEmails.com | $29 for 1,000 credits | 50 trial credits | ✕ | ✕ |
Top 6 Sites to Purchase Business Leads
Top Resources for Creating B2B Leads
The Business-to-Business (B2B) lead generation process aids in the identification of prospective clients (leads), who can then be nurtured until they are prepared to make a purchase. It can take a lot of time and be difficult, especially if you are unfamiliar with web marketing. It's important to have a good plan and the right tools if you want to get leads and keep track of them well.
On the market, there are a variety of lead generation solutions, from straightforward web search engines to more complex marketing automation platforms. In this article, we'll generate some of the best resources for generating B2B leads.
1. Google AdWords
A well-liked lead creation service called Google AdWords lets you advertise on Google and websites that it partners with. Users who are looking for terms connected to your goods or services will see these advertisements. A user can find out more about your business and what you have to offer by visiting your website after clicking on one of your adverts.
The ability to tailor your adverts to a certain audience using keywords, demographics, and interests is what makes it efficient for generating B2B leads. Retargeting is another tool you may use to connect with website visitors who have already been to your site but did not become leads.
2. LinkedIn B2B Marketing Software
Business executives frequently use the social networking site LinkedIn. It may be used for both B2C and B2B marketing, but it excels at generating leads for businesses. You may build a business profile on LinkedIn and share updates, articles, and other information with your connections.
It also includes several features that make it perfect for lead generation, like the ability to target ads at a particular audience, the capacity to build a database of possible leads, and the capacity to monitor the success of your campaigns.
You may automate and streamline your lead creation process with the help of several LinkedIn B2B marketing tools. One such program that might assist you in automatically generating leads from LinkedIn is E Leads Pro. It uses AI to target the hottest leads that are most likely to convert and offers a comprehensive solution for LinkedIn lead generation.
3. HubSpot CRM
A well-liked customer relationship management (CRM) tool for generating B2B leads is HubSpot CRM. You can keep track of and manage all of your leads, clients, and deals in one location. Additionally, it includes several features that make it perfect for lead generation, like the capacity to build custom forms, the capacity to segment your lead pool, and the capacity to monitor the effectiveness of your campaigns.
You can automate and streamline your process with the aid of HubSpot CRM. It also interfaces with other lead generation programs, like LinkedIn, allowing you to control the whole process from a one location.
4. Inbound Lead Generation Tools
By using content marketing, you can generate leads through inbound lead creation. Writing blog posts, eBooks, white papers, and other forms of material that are pertinent to your target audience will help you do this. To draw potential customers to your website, this information needs to be educational and helpful.
You must turn leads into buyers or clients after drawing them to your website. This can be accomplished by including a lead capture form on your website that visitors can fill out in exchange for valuable content, such an eBook or a coupon.
A great technique to produce B2B leads is through inbound lead generation, which enables you to target a certain demographic and establish a rapport with them before making any sales attempts.
5. CRO Tools for Maximizing Leads
Increasing the proportion of website visitors who complete the intended action, such as filling out a form or making a purchase, is known as conversion rate optimization (CRO).
You may boost the percentage of leads your website generates by using CRO tools. Visual Website Optimizer, Unbouncy, and Optimizely are a few of the more well-known CRO solutions.
With the use of these tools, you can test various website elements, such as the headline, call-to-action, and image, to see which one performs best at turning visitors into leads.
Know About: IoT Development Company
5 Effective Methods for Creating Inbound Leads
Brands reach customers through marketing. Some marketing is cheaper than others. Inbound and outbound marketing are common. Outbound marketing is best for fast, low-cost lead generation. Inbound marketing is best for long-term, cost-effective business lead generation. It's worth trying because it takes longer to master and return. This article defines inbound marketing and lists five effective tactics.
Why Do Businesses Need Inbound Leads?
Let's focus on outgoing leads for a while. They're employed, as was said, to rapidly generate sales leads. The commercials seen during the Super Bowl are a great illustration of this phenomenon. Although thousands of people will see your adverts, you won't receive many qualified leads. This is because viewers are too engrossed in the game to pay attention to the commercials.
Inbound marketing strategies are useful at this stage. Instead of interrupting potential clients' favourite TV shows or sporting events, your ads will only appear when they are most relevant to them. Inbound marketing strategies rely on the usage of high-quality material like videos, emails, and audio recordings. If you want to succeed in inbound marketing, you'll need to put in more effort and time.
The customers you talk to won't even realise it, though, because they came to you asking for help. Below are five examples of successful inbound marketing strategies.
1. Audio Ads
Commercials that include music into the listening experience are known as "music ads." They've seen massive growth in listenership in the last few years, thanks in large part to the proliferation of online music streaming services.
As you likely already know, if you don't upgrade to a paid premium membership on services like Spotify, your listening will be interspersed with brief commercials every 15 seconds or so. You're aware of what you're getting into by listening to music with commercial breaks. The emotional appeal of these advertising is a key factor in their success at attracting customers.
It takes a lot of expertise to create effective musical advertisements, especially ones that aim to evoke an emotional response in their target audience. Luckily, AI can be used to generate audio advertisements on your own. Decibel Ads makes it possible to make an audio ad in about ten minutes and have it streaming in under a day. You can make your own audio commercials; all you need is a message and an idea of who you want to hear it.
2. Make a Top-Notch Blog
You can quickly rise to the top of your field by blogging about your expertise. Search engines regularly link curious Internet users to blogs in order to help them discover the information they need. You can develop blog entries that answer the most frequently asked questions by doing the necessary research.
Your website's domain authority and search engine rating will improve if you keep up this strategy. When people can find your blog and they appreciate what they read, they're more inclined to check out the rest of your website. Blogging successfully takes practice, but don't discount its potential.
3. Expand your list of email subscribers.
It's easy to look at email marketing and conclude that it's a hopeless cause if you don't know any better. After all, marketing mail tends to head directly to the spam folder. However, it's been demonstrated that for every $1 spent by firms on email marketing, there has been a return of roughly $30. This ROI is extraordinary, especially for a marketing stream thought to be unsuccessful. You should direct consumers to your email lists from all of your other inbound marketing channels.
4. Try Podcasting
Podcasts have increased in popularity, especially amongst younger people. Statistically, nearly a third of all Americans under 35 listens to podcasts. To host a podcast, you need not produce it yourself; instead, you can simply link to an existing podcast. Supporting a popular podcast by giving them airtime will result in positive word-of-mouth advertising.
5. Books
Even if there are more people reading books now than ever before, it's easy to overlook them in our obsession with digital media. You can avoid printing copies of your book by making it available online or through the Kindle store on Amazon.
Having a well-written book in your industry, however, will help you stand out from the crowd. Once your audience learns to trust you and your content, they will look to you for all of their informational needs.
5 Ways That Outbound Call Automation Can Boost Your Sales
It's simple for readers to assume that you're talking about telesales the instant you mention outbound calls. You know, the one that usually chimes while you're having supper. In this piece, we'll discuss automated outbound calls in relation to those that contact centers place in response to a trigger.
Automated outbound calls, unlike telesales calls, are not an anomaly. They call exactly who they want to call and always dial the correct number. Now that everything's been clarified, let's find out how automated outbound calls increase a business's sales.
1. More customers are closed by automated outbound calls
Making outbound calls to new leads right away improves your chances of winning the business. Such a call would be initiated the moment a new phone number is introduced to a leads collection system (with a product and consumer information associated with it). Perhaps this is a CRM.
These calls' rapid efficiency is what leads to their high conversion rates. When a business starts making automated outbound calls, this becomes especially obvious. A call-initiating contact center has a stronger business justification than one that only accepts inbound calls.
2. Virtual queues reduce wait times
The lengthy wait times during peak hours are one of the most frustrating aspects of call centers that only accept inbound calls. Callers may eventually give up waiting entirely. As they ultimately choose your competitor's products, this results in a loss of money.
They avoid long waits in irksome call center lines thanks to automated outbound calls. They can hang up after setting their place in line and go about their business while they wait for your system to call them back when they're in front.
3. Lessen dropped calls
Even when there isn't a waiting call, some callers will hang up before an agent picks up. And those who hang up when they hear a voice that is different from what they were expecting. Both call occurrences fall under the heading of dropped calls.
When this occurs, particularly when there is no agent on call, an automated outbound call should be planned. Following up on these calls as soon as an agent is available ensures that you are not losing business unnecessarily.
To better understand the caller's motivation for trying to reach your agents, an interactive voice response would be preferable. In this manner, the finest agent available to address the caller's needs will be ready and waiting to assist when the automated call is placed. One method for putting an end to abandoned calls is outbound call automation.
4. Boost average customer value
Some clients disappear after purchasing your stuff. They don't call, and they can just leave after they're done using your stuff. It would be best if they renewed their subscription. Only arranging calls at random intervals to stay in touch with your idle consumers can ensure this.
Such a call can verify that your clients are utilizing your products to their full potential. This kind of customer care also decreases the number of clients who need to call you for assistance. You will effectively have automated customer retention.
They won't contribute to the line and bustle typical of contact centers that solely handle inbound calls while they remain on your list of paying customers.
5. Boost client satisfaction
The end result of the aforementioned strategies for using outbound calls is elevated client pleasure. Your net promoter score rises with nearly flawless customer service that uses automated outbound calls. As a result of your present consumers recommending your business, you'll see an increase in sales.
Know About: Drop Servicing Business
How To Begin Using Automated Outbound Calls
Making a hybrid call center is the most practical way to get outbound calls made and their advantages delivered to you. This occurs when your automated system calls outbound calls and your inbound call center agents pick them up.
Since the same equipment is used for both call directions, you save a lot of money. Instead of hiring new agents, you can teach your existing staff to perform just as effectively while making outbound calls. Average handling time is one of the metrics that gets better with less training. Your contact center is more cost-effective the shorter your outbound calls are.
You must incorporate conversational IVR into your call toolkit to complete the installation. The automated outbound calls will have more context this way, which will aid operators in resolving issues more rapidly. Your entire contact center, not simply the CRM and dialer combination, should be automated. As a result, the investment you make to build an outbound call center on top of an inbound setup will yield superior returns.
B2B Leads, The Best Solutions for Your Business
Retaining and attracting customers is getting harder. Simple. Modern clients have several choices. The competition is fierce. It is critical to distinguish oneself from competitors. Business entrepreneurs explore many marketing methods to discover the right one.
B2B lead generation is a powerful way to survive. This strategy helps businesses locate new customers online. You can't just use a free website builder to make a commercial website. BrightestMinds.io can establish that B2B lead creation is crucial to every advertising effort.
B2B lead generating agency offers many services. New customers and sales are the major objectives. This requires knowing where to position a lead and what information to employ. Lead generation's main goal is to get customers to buy.
BrightestMinds.io has several online competitors. Some provide free lead generation. Despite its many benefits, BrightestMinds.io is still better.
B2B Lead Generation: Advice
BrightestMinds.io benefits new and established entrepreneurs. Understanding SEO or mass email delivery is optional. No matter the complexity, the experts can fulfill any order.
The agency also generates B2B leads. It means you can choose the finest solution for your scenario. No platform configuration is necessary. Top content sources are easy to find. Service experts do it. Explore top-notch B2B appointment setting. LinkedIn promotion and SaaS lead creation yield great results.
Easy-to-use service. You may buy leads from home. Website or app orders are required. Experts examine your firm, study, and provide the best options. A B2B lead creation business can save you time. You don't need to mention all the best ad platforms. BrightestMinds.io is an excellent solution for many companies. You can count on complete support for your stratification or publishing business.
Real Estate Agent Lead Generation Tips
Finding appropriate leads is a constant concern for real estate brokers. They now have a variety of different lead generation platforms thanks to the internet. For instance, Google search advertisements are an excellent approach to reach people who are trying to sell or purchase a house. Similar to this, they can target people in their target location who have a certain income level using Facebook advertisements.
But when more real estate brokers begin to use the platforms, the price continues to rise. In the last two years, the cost per clicks or cost per acquisition has more than doubled.
However, there are still ways to reach your goals without going overboard with your spending. A lead generating agency construction course offered online is called Officeless Agency. The goal is to generate leads and market them to companies. However, real estate agents can also enroll and take courses to learn how to generate leads for their organizations.
Use software for skip tracing
Real estate agents can enhance their marketing efforts by utilizing skip tracing software. Agents are able to monitor the development and behavior of their leads thanks to this, which might help them figure out where they are losing potential customers.
The best skip tracing software can also assist agents in finding and getting in touch with leads who have already inquired about a property. Agents can target more effectively and boost their chances of closing deals by using this information.
They can follow the movements of both individuals and assets thanks to it. This knowledge can aid agents in enhancing their marketing efforts and acquiring more focused leads. Additionally, skip tracking software can assist brokers in determining whether a property has been rented or sold.
Let's now look at some of the techniques you can employ.
Achieving organic visitors or organic views on Google or Facebook is become very difficult. The same is true for YouTube channels and YouTube ads. To reach your target demographic, you will typically need to spend a fair amount of money.
YouTube is unique. You will start to gain subscribers and views if you can produce quality material, such as straightforward films instructing real estate investors, buyers, or sellers. Additionally, the larger audience you may reach will increase as you gain more subscribers.
Spending on YouTube advertisements, which are generally less expensive than Google or Facebook Ads, will speed up the process.
Facebook Leads and Messenger Ads:
Facebook Leads and Messenger Ads. Lead advertising on Facebook is the first. The benefit of these advertising is that consumers may view your advertisement and submit the form without ever leaving Facebook. Therefore, you don't need to bother about optimizing your landing page or your conversion rate.
The second kind is Messenger advertising, which have a substantially higher open rate than emails do. To make the most of these ads, you will need to have a thorough understanding of how Facebook or Messenger ads operate.
You risk spending a lot of money on these advertisements if you are not skilled at setting up PPC campaigns. With the use of online training programs like The Modern Millionaires, you can learn how to generate leads with PPC advertisements. For additional information on the course, read this review.
Local events:
Compared to more traditional means like TV or print commercials, the internet is typically a more economical lead generating or advertising channel. However, that doesn't imply you should disregard offline advertising strategies like leaflets or attending regional gatherings.
Every few months, don't forget to run an offline campaign. You can also take part in neighborhood events. That does not obligate you to purchase a booth or register as an advertising. Instead, simply show up there with your business card and perhaps some giveaways to increase the impression.
Form alliances:
Small firms can gain a lot from joining forces with organizations that are connected to theirs but not direct rivals. You may, for instance, collaborate with contractors or home builders who can recommend their clients who wish to buy, sell, or rent homes (and you can return the favor by sending new plot buyers to these contractors).
Make sure you are being selective while selecting your mates. You should avoid recommending your clients to someone who is not trustworthy or professional because it will damage your relationship.
Utilize your GMB listing to its fullest potential: Except when you are targeting the local pack, it is difficult to rank on the first page of Google. The best thing about competing against the local pack is that you are not up against huge corporations or a large number of enterprises.
To rank in the top three results, all you have to do is perform better than a few nearby firms. Since proximity is a key factor in local search results rankings, you will always have an advantage over companies without a real presence in the region.
7 Clever Ways to Increase Online Sales
Online stores appear daily. Competition increases as more people establish their own businesses and more startups are created. Unfortunately, increased competition makes it harder to stand out. Young brands struggle to compete with big businesses. Choose the right method and get creative to boost brand exposure and sales. Thus, this post will provide seven useful tips to boost your online sales. Choose ones that fit your business idea and strategy.
Tip #1: Verify the Veracity of Your Sales Copy
This means that you should never mislead your clients because doing so could damage your reputation, which is extremely difficult to repair. As you are aware, anything posted online remains there permanently.
Many individuals can already have a screenshot of a banner you deleted even if it made a promise you were unable to keep that was completely different from what it actually did.
Tip #2: Consistently utilize Google Ads to increase online sales
People won't be able to find you on Google without a functioning Google Ads account with at least one active advertising campaign. This implies that fewer people will be aware of it, visit your website, and make purchases from you. You need to have a running, constantly watched advertising strategy to enhance Prestashop Google AdWords ROI for your website.
Tip #3: Utilize ad extensions
It is not sufficient to add a few keywords to your Google Ads campaign and choose your cost per click budget. You must utilize Ad Extensions as well for the best outcomes. Your adverts become significantly bigger as a result, with fewer areas to click on.
By doing this, you can make a sale and save your potential consumer time. You could create an extension that allows users to select whether to click on the link for hiking shoes for men or hiking shoes for women, for instance, if they were searching for hiking shoes.
Tip #4: Distribute client evaluations
These days, customer reviews are crucial. One benefit is that it demonstrates to your prospective customer that you are a dependable seller who won't simply grab their money and go, which, sadly, still occurs. Additionally, it greatly facilitates the decision-making process for your website visitor as to whether the product they have selected is worthwhile. Additionally, it is crucial that all of the evaluations be authentic, preferably coming from registered buyers.
Tip #5: Convince someone to buy something right away.
This method is tried-and-true and widely used. People are more likely to purchase something they are already interested in if there is a sense of urgency created. On the other side, if there is no sense of urgency, potential buyers won't feel pressured to buy now even though they have the option to do so at any moment. Small businesses who don't receive a lot of consumers might dramatically boost their sales with this marketing method.
Tip #6: Provide Fewer Options
Some companies subscribe to the notion that more is better. But in the realm of eCommerce, this just doesn't work. Giving people more options make it harder for them to decide and make a final choice. They could occasionally become so bewildered and puzzled by all the choices that they might just exit your website. Thus, it is preferable to provide fewer possibilities.
Tip #7: Offer More Options for Payment
Accepting all business cards is already a fundamental standard. But what else can you give your customers? Perhaps there are more ways to pay at the register that are quicker and easier. Think about letting customers pay with Google Wallet or ApplePay in your online shop. The client will be more appreciative that you are concerned about his comfort in this way. Additionally, this customer might elect to buy from you rather than your rival because your payment methods are merely more convenient for them.
Proven CTAs (Call To Action) To Convert Blog Traffic into Customers
A reader is always captivated by a blog's versatile writing and intriguing thoughts. But have you ever attempted to turn blog visitors into paying customers? Many B2B businesses in transition may be inspired by this query to seize new chances.
Knowledge of suppliers and manufacturers has an impact on audiences worldwide. By creating worthwhile blog entries every day, the blogging community is able to raise its production graph consistently. It is astounding to see how well the majority of blogs match the needs of their intended readership. However, something is still lacking.
Do you have any experience sticking to a single influence platform? The majority of trade blogs fall short in terms of enhancing content marketing. For this same reason, readers get a break and promptly transfer to other online B2B platforms. How can a B2B business afford to lose its intended market? We become perplexed since sales rise when content marketing is strategic.
B2B trade websites on the internet take care to use the proper content marketing approach. Not just to create a strong online presence, but also to turn blog visitors into paying clients. The manufacturing companies aim to concentrate on applying top-notch abilities in order to eventually convert the readers into potential customers.
The goal of this technique is to draw attention to all top B2B businesses. We have highlighted the strategies in this piece that B2B marketers should take into account to boost sales through blog traffic.
CTAs Increasing Blog Traffic and Increasing Potential Clients
You are aware that your blog is well-written and precisely catered to the B2B industry. But are you certain it is worthwhile reading? Is your blog increasing revenue or just draining them dry?
You don't need to worry about anything right now. The appropriate content marketing tactics have been identified in this post to convert your sporadic B2B blog visitors into paying clients. Keep an eye on the post because you'll discover anything brand-new and exciting.
CTAs In The Sidebar
Placing CTAs in sidebars is the greatest choice B2B trade sites take into consideration. Although it is not a strict guideline, converting blog traffic is undoubtedly a professional practice.
According to insights, sidebar CTAs almost always result in conversions of 0.5% to 1.5%. The rate, however, is wholly based on site visitors.
Even when considering theme and relevance, new B2B marketers frequently complicate the blog. They put too many widgets and make the design haphazardly, which finally leads to people leaving the blog. Never take this action! Make your blog as user-friendly as you can.
Effective Generic End-Of-Post CTA For Conversion
Make sure to keep your readers interested until the very end. The reader's comprehension of how reliable and true your statements are causes this action to speak for itself.
If the marketers in a Chinese B2B marketplace comprehend the function of a general end-of-post CTA, the market could perform even better. You were accurate about us! Similar to the sidebar, this feature has a conversion rate of 0.5% to 1.5%.
Not all readers stay on the page to the very end. CTAs that appear soon after the post's conclusion can be helpful in this regard. Even examples of these sites that have succeeded in converting blog traffic to leads at a 300% rate can be found online. Isn't that amazing?
Engaging Pop-Ups Can Be Very Successful.
You might consider how pop-ups can turn blog visitors into paying consumers. mainly because it irritates and greatly distracts the guests. You are somewhat correct, but you are also unaware of its advantages.
Pop-ups are more successful than sidebars and generic post ends. By including these CTAs, B2B trade websites can gain significantly. Pop-ups promise to provide you at least 400% better conversions than other tactics, which only guarantee conversions of 1%. What, in your opinion, is best?
The CTA can be used by a B2B marketer in a variety of ways. Either you can get a reader to go to the landing page or you can get their email. Even if the latter approach will produce fantastic outcomes, the decision is yours.
What About Bars and Sliders?
You do, however, have a different choice. Pop-ups and sliders and bars are somewhat comparable. Your slider will be visible at the top or even the bottom of the website.
Sliders can provide you relatively low conversion rates compared to pop-ups, which is certainly not what you want. However, you can improve the outcomes by giving the sliders more interesting and original designs.
Knowing the value of a CTA for your B2B site is not difficult. Make sure your design isn't too crowded that a reader seeks for an exit button right away. It may be a wise choice to include sliders. To attract potential leads, you simply need to make sure that the reading experience is enjoyable and not invasive.
Greetings Gate
You've probably seen welcome gates on websites, the ones that won't let you in unless you behave. Different visitors are converted to customers at the welcome gate. It does, however, irritate users.
The welcome gate's ability to convert 15% to 25% of blog traffic is one of its benefits. E-commerce websites can also benefit from using this function, thus it is not just available for bloggers.
Avoid interfering with what others are doing. Go ahead and create a welcome gate if you wish to. But watch out that it is not as bothersome as it is sometimes perceived to be.
Navigation Bar
Without a navigation bar, your B2B commerce website is lacking. Instead of staying on the homepage, website users frequently search for different pages to browse. For retaining visitors' interest and allowing them to participate in the site, this feature is far too calculated.
To stimulate learning and attract their interest, make your navbar sticky. You must make it interesting without making it lose focus.
To Sum Up
Did we pique your interest enough to push the boundaries of B2B services? Once these points are carefully implemented in your trade website, you will notice an increase in your sales.
Author Bio
Digital marketing specialist Beatrice McGraw works at ExportHub, an online B2B marketplace. She simply enjoys disseminating her knowledge through blogs, videos, and other forms of information. She knows a lot about technology and likes to look into new digital solutions that are cutting edge. She is an avid gamer in her spare time.
Know About: Subscription Business Model
In conclusion, a company's sales and marketing plan must include business leads. Companies can boost their revenue and expand their business by locating and nurturing potential customers and clients. It's crucial to remember that not every lead will turn into a paying client or customer. Consequently, it's imperative to have a system in place for locating and vetting leads, as well as for monitoring and evaluating their development.
Companies can improve their chances of converting leads into profitable business partnerships by putting efficient lead management procedures into place. The lead management process can also be streamlined and optimized with the aid of technology and automation technologies. In conclusion, a properly managed lead generation and qualification process may be a major factor in the expansion and success of a business.