MobileMonkey is a robust chatbot development platform that enables businesses to create and deploy chatbots across a variety of messaging channels, including Facebook Messenger, SMS, and web chat. Businesses may use MobileMonkey to automate client interactions, boost customer engagement, and drive conversions.
One of its primary features is its visual chatbot builder, which enables business to construct chatbots without any coding skills. The platform provides a drag-and-drop interface for designing and customizing the chatbot's conversation flow, as well as adding text, photos, and video and integrating it with multiple backend systems.
It provides a range of marketing tools, including audience segmentation, automated drip campaigns, and analytics, in addition to chatbot creation. These technologies enable firms to track chatbot success, enhance messaging, and boost marketing efforts.
Overall, MobileMonkey is a fantastic tool for organizations looking to automate customer interactions and boost their marketing efforts. Its simplicity of use, extensive feature set, and broad range of integrations make it an excellent solution for enterprises of all sizes and industries.
What is MobileMonkey used for?
Businesses typically utilize MobileMonkey, a chatbot creation platform, to automate client interactions and boost engagement on messaging platforms like Facebook Messenger, SMS, and web chat. Businesses may design, deploy, and manage chatbots that can handle a variety of use cases using the platform's capabilities and resources.
Here are some of the most common use cases for MobileMonkey:
Customer service: Chatbots built with MobileMonkey can provide automated responses to frequently asked questions, help customers troubleshoot issues, and escalate complex inquiries to human agents when necessary.
Lead generation: MobileMonkey can be used to build chatbots that engage website visitors and social media followers, capture contact information, and qualify leads.
E-commerce: Chatbots built with MobileMonkey can guide customers through the purchase process, provide product recommendations, and answer product-related questions.
Marketing: MobileMonkey offers a suite of marketing tools that allow businesses to segment their audience, send targeted messages, and measure the performance of their chatbots.
Event promotion: MobileMonkey can be used to build chatbots that handle event registration, provide event information, and send event reminders.
MobileMonkey is a flexible platform that can be used to automate a variety of client interactions and raise messaging channel engagement.
Is MobileMonkey a chatbot?
This platform enables companies to develop and use chatbots, among other things. Mobilemonkey chatbot is a tool that can be used to create chatbots, even if it is not a chatbot in and of itself.
A chatbot is a computer software that mimics interaction with human users by employing artificial intelligence and natural language processing. Chatbots can be used to automate customer interactions and boost engagement on a variety of messaging platforms, including Facebook Messenger, SMS, and web chat.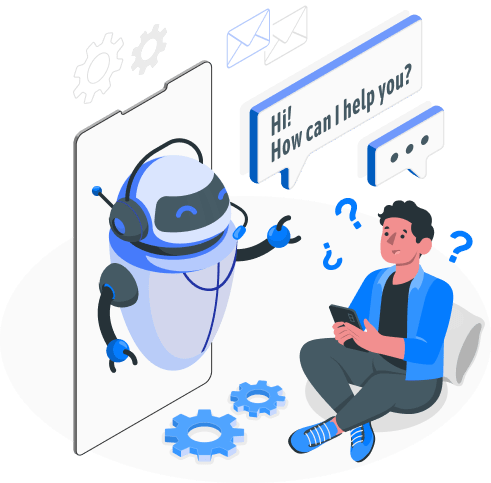 Users can develop chatbots using mobilemonkey chatbot builder without having any programming experience. Users may easily design and alter the conversational flow of the chatbot, add text, graphics, and video, and integrate it with multiple backend systems thanks to the drag-and-drop interface of the chatbot builder. In order for chatbots to comprehend user input and react accordingly, the chatbot builder also makes use of natural language processing (NLP) technologies.
MobileMonkey is a platform that enables companies to create and use chatbots, despite the fact that it is not a chatbot in and of itself. A variety of marketing tools from MobileMonkey enable companies to interact with their clients and potential clients via various messaging platforms. The following are some of the main characteristics of MobileMonkey's marketing tools:
Omni-channel messaging: MobileMonkey allows businesses to engage with customers across different messaging channels, including Facebook Messenger, SMS, web chat, and more. This enables businesses to reach customers where they are, and provide a seamless messaging experience.
Drip campaigns: MobileMonkey's drip campaign feature allows businesses to send a series of automated messages to customers and prospects over time. Drip campaigns can be used to nurture leads, drive engagement, and improve conversions.
Audience segmentation: MobileMonkey provides tools to segment audiences based on their behaviour and engagement. This allows businesses to send targeted messages to specific segments of their audience, and improve the relevance of their messaging.
Analytics and reporting: MobileMonkey provides detailed analytics and reporting tools that allow businesses to track the performance of their messaging campaigns. This includes metrics such as open rates, click-through rates, and conversion rates.
Know More: Smart Home & Home Automation
What are the benefits of MobileMonkey?
For companies wishing to automate client interactions and raise engagement on messaging platforms, MobileMonkey provides a number of advantages. The following are a few of the main advantages of adopting MobileMonkey:
Improved customer engagement: MobileMonkey chatbot and messaging campaigns allow businesses to engage with their customers on their preferred messaging channels. This can lead to improved engagement rates and a better overall customer experience.
Increased efficiency: Mobilemonkey chatbot can automate many common customer interactions, such as answering frequently asked questions and processing simple requests. This can save businesses time and resources, and allow them to focus on more complex tasks.
Better lead generation and conversion: Mobilemonkey chatbot and messaging campaigns can be used to capture leads and guide them through the customer journey. This can result in higher conversion rates and more revenue for businesses.
Enhanced personalization: Mobilemonkey audience segmentation and targeting tools allow businesses to send more personalized messages to their customers. This can lead to a more engaging and relevant messaging experience, and improve customer loyalty.
Detailed analytics and reporting: MobileMonkey provides detailed analytics and reporting tools that allow businesses to track the performance of their chatbots and messaging campaigns. This can help businesses optimize their messaging and improve their overall ROI.
Increased brand awareness: Mobilemonkey chatbot and messaging campaigns can be used to promote new products, services, or events, and raise brand awareness. Businesses can send targeted messages to their audience and encourage social sharing to expand their reach.
24/7 availability: MobileMonkey chatbot can provide 24/7 customer support and answer questions even when a business is not available. This can improve customer satisfaction and reduce response times.
Cost-effective: Mobilemonkey chatbot and messaging campaigns can be more cost-effective than traditional customer support channels, such as phone or email. Businesses can handle a larger volume of inquiries and support requests with fewer resources, resulting in cost savings.
Integration with existing systems: MobileMonkey can integrate with existing customer relationship management (CRM) systems, email marketing tools, and e-commerce platforms. This can help businesses streamline their operations and provide a more seamless customer experience.
Scalability: Mobilemonkey chatbot and messaging campaigns can be scaled up or down as needed to match a business's growth. As a business's customer base grows, MobileMonkey can help handle the increased volume of customer interactions.
For companies aiming to increase client interaction and automate their customer service channels, MobileMonkey offers a wide range of advantages. It is a valuable tool for businesses of all sizes and sectors because of its simplicity of use, cost-effectiveness, and emphasis on customer involvement.
Know More: RenderForest, A New Money Maker In Freelancing
MobileMonkey vs ManyChat
Both MobileMonkey and ManyChat are well-known tools for creating chatbots for Facebook Messenger and other messaging apps. Without any coding knowledge, anyone may develop chatbots using MobileMonkey
On the other hand, ManyChat is a user-friendly chatbot development platform that features a visual flow builder. There are numerous templates and connectors available, such as those for Shopify, Zapier, and Google Sheets. Along with a subscription plan with more features and higher limitations, ManyChat also offers a free plan with fewer features.
The decision between MobileMonkey and ManyChat ultimately comes down to the individual requirements and preferences of the user. Before choosing a platform, consumers should take into account aspects like pricing, functionality, convenience of use, and customer service. Both platforms have advantages and disadvantages.
user-friendly visual chatbot builder. Advanced services like SMS messaging, chat blasting, and live chat are also available. With various payment tiers based on the features and contacts, MobileMonkey is a paid platform.
Both MobileMonkey and ManyChat are chatbot-building platforms that let companies give their consumers automated messaging experiences. These contrasts between the two are provided below:
Visual chatbot builders on MobileMonkey and ManyChat make it simple to design chatbots without coding knowledge. Both platforms are user-friendly. However, beginners will find the drag-and-drop interface of MobileMonkey to be a little more user-friendly.
Similar features including chatbot templates, connectors, and automation tools are available on both platforms. However, ManyChat lacks several cutting-edge features that MobileMonkey includes, such as SMS messaging, chat blasting, and live chat. On the other hand, ManyChat provides greater connectors with external applications like Shopify and Google Sheets.
Both MobileMonkey and ManyChat include a free plan, but the features and contact limits of their pricing plans vary. The paid subscriptions from MobileMonkey are often more expensive than those from ManyChat, but they also come with more sophisticated features.
While ManyChat offers email and Facebook help, MobileMonkey gives live chat assistance around-the-clock. Additionally, MobileMonkey has a larger user knowledge base and resources.
Both MobileMonkey and ManyChat are excellent chatbot-building tools overall, with comparable capabilities and usability. The unique needs, financial situation, and preferences of the user ultimately determine which option is best for them.
How to Create a Powerful Chatbot in 15 Minutes by MobileMonkey bot builder.
Lest start making a AI chatbot with mobilemonkey bot builder.
Step 1: Get a Chatbot Builder (MobileMonkey).
Facebook Messenger is the most popular chatbot platform. One of the most popular and functional chat services is called Messenger. One of the best chatbot makers out there is MobileMonkey, which is also the Facebook Messenger partner with the quickest expansion.
This article's remaining sections will walk you through creating a chatbot with MobileMonkey. You can create a potent chatbot in just a few minutes by signing up for free. You will use Facebook to register for a Messenger chatbot creator. You can do this to automatically link your chatbot and Facebook Business page.
Signed up for MobileMonkey and you are in.
Step 2: Connect Your Facebook Page to Your Chatbot Builder
Your Facebook Business Page and chatbot creator must then start communicating with one another. Access the chatbot builder by logging in at https://app.mobilemonkey.com . Click the "Connect Facebook Pages" option on the home screen.
Click "Connect Facebook Pages" after choosing any Facebook pages you want to link to your chatbot platform from the menu.
All that is necessary to link your Facebook page to your chatbot creator is that. Your Facebook page just has to be connected once. It will then always be accessible from the home menu. In the future, if you want to create new Facebook pages, you'll just need to repeat this procedure.
Know More: Optimize Your Facebook Ad Campaign
Step 3: Select the Facebook page where you want to build a chatbot.
If you only manage one Facebook page, things are fairly straightforward. At this point, all you have to do is click on the Facebook page where you're creating the chatbot.
I'll be developing a chatbot for Unicorn Realty, my fictitious real estate firm. Be truthful. You would like purchasing a home from a company called Unicorn Realty. You will reach MobileMonkey's home page once you click on the appropriate page. The main menu is located on this page and provides access to the following:
Bot builder is the workspace where you may create all of your chatbot sequences.
Here, under "Advertising," you may set up items like Sponsored Messages and Facebook Messenger advertisements.
Chatbot technologies for marketing automation tasks including drip campaigns and chat blasts are available.
Lead magnets – Lead magnets provide many ways to increase the number of Facebook Messenger contacts you have, such as landing pages and Facebook post autoresponders.
All of your audience insights may be found in this section.
We could do a lot of things here, but we're just going to get right into the bot builder.
Step 4: Open up the Bot Builder
You'll spend a lot of time on the chatbot builder once you start creating chatbots. Let's get inside and take a look around.
Dialogues and Q&A are the two options available when the bot builder is opened. Conversations are the lifeblood of chatbots; they are where they ask questions, present alternatives, deliver content, and do pretty much everything else.
Q&A is a technique that teaches your chatbot what to do when presented with specific keywords. You can configure your chatbot to answer with pricing information, for instance, if a customer asks about price or cost when talking with it.
You must design dialogues that are triggered based on specific phrases in order to use the Q&A feature. We will therefore work on conversation (not Q&As in this post).
Step 5: Open the Dialogue Bot Builder
You'll see a pre-built Welcome Dialogue when you first start the bot builder. Your life is supposed to be made easier by this. In essence, we could end the conversation here and you could tell your boss, "I made a powerful chatbot, dude."
That took, at most, five minutes. Of course, you'll want to add a few more touches to make this chatbot uniquely yours. To find out what's what, let's look at the dialogue builder.
Avoid becoming overloaded. With the chatbot builder, there is a lot to learn at first.
There are four primary divisions within it:
Wherever you are in the app, the primary menu is always in the left sidebar.
a list of every chatbot you have. You may categorize them into folders and even perform a search across all of your conversations. This will become more crucial the more art you produce.
where most chatbots are built. You build your dialogues piece by piece in this step.
You have the choice to copy the URL or test your bot in Messenger on the right side of the screen. You can create keyword prompts to launch the chatbot under the Q&A area.
You can always tap the purple slider in the lower right corner to offer yourself additional workspace.
Now let's start building some actual chatbots. I'll be beginning from scratch. Probably already prepared for you is a preset welcome dialogue in the chatbot builder. Simply click the trash can symbol above any widget until you are left with nothing to start over. We're starting from scratch on this!
Your bot builder should look like this now.
Step 6: Add a Quick Question Widget
The fundamental units of a chatbot are widgets. Consequently, you'll need to include widgets when learning how to build a chatbot discussion. The widgets are the main focus.
They come in fifteen:
Attachment: Give your chatbot a downloaded file.
Make an attribute that will be used to specify target audiences or activities.
Automatically send emails using your bot.
Form – Construct a chatbot form that the user may complete.
GIF – Include a captivating gif in the chatbot gallery Gallery – Display a gallery of pictures, goods, etc., with headings and descriptions
Image – Display an image within the chatbot
List – Create an image or item list, such as a menu or a product listing.
Providing capabilities to trigger a particular dialogue, navigation
Tag — Include a tag to quickly track and arrange your chatbots.
Text – Include some basic text in your chatbot.
Typing – Creates the impression that the chatbot is typing slowly.
Add a tag to your chatbots to quickly monitor and organize them.
Simple text should be added to your chatbot.
Typing – Creates the impression that the chatbot is typing a response slowly.
A video can be added.
Connect to any of your Zapier triggers and connections using the Zap Connection tool.
The fast question widget is one of the most adaptable widgets. To add it, click the Quick Question button.
Step 7: Add your quick question with an attribute
The query is meant to engage the user in conversation since we're establishing a welcome dialogue. Enter your query in the text box and a qualifier. The bot builder will automatically add attributes depending on what it already knows about the user.
This comprises information about the user, such as name, gender, and time zone. It's a good idea to include the user's first name to your chatbot to personalize it.
Step 8: Save the user's answer by creating a new attribute
A list of these responses will be automatically saved by MobileMonkey. By selecting the new attribute button and giving it a name, you may create a new attribute.
Step 9: Add an input type for the user's answer
What you mean by "input type" is the kind of response you need from the user.
Among your five options are:
Multiple choice – The user chooses an answer from a list of possibilities you specify.
Free form text allows the user to enter any text they like.
Location: The user only needs to tap once to send their location.
Email – The user's email is automatically included in the chatbot's response, and they tap to send it.
Phone: With a single press, the user can enter their phone number.
We'll use multiple choice in this illustration. A multiple choice can have one option or as many as you like. Users will tap or select the appropriate response to respond to the brief question.
Step 10: Create multiple choice answers
To begin composing your response to the multiple-choice question, click "Add Answer." I enjoy using pictures in my responses. It merely makes it appear more intriguing. To the left of the response field, click the little picture symbol.
Choose a picture file from your computer's storage. Avoid using anything too detailed because this image will be a tiny thumbnail. Enter your response in as many different ways as you like.
It's critical to talk about where we're heading with this now that we've developed a few solutions. Each response will, of course, lead to a different conclusion. That something else is a different conversation.
In essence, what you're doing is building a menu with branching options, where one choice starts a new dialogue or conversation. Let's examine our chatbot's performance so far to evaluate how it's doing.
Step 11: Test your chatbot periodically
Click in the upper right corner and click the "Test Dialogue" button.
(To expand the right menu if it has collapsed, just click the purple arrow in the lower right corner.) I typically launch Messenger on my phone to test the chatbot on a desktop and a mobile device.
So far, so good.
Now, it's time to build out a second dialogue to follow up on these options.
Step 12: Start an additional dialogue
Since you are familiar with the fundamentals of the bot builder and how to add widgets, I'm going to move through this one much more quickly.
Simply select "add dialogue" from the dialogue menu to start a new dialogue.
The first thing you'll do is name your dialogue.
After adding a name, you must start the dialogue over again. My conversation will assist the user in contacting an agent. I'm going to start by displaying a beautiful image to grab the user's eye and provide some visual intrigue. I choose the widget labeled "image."
I then ascertain that the user wants to speak with an agent. There is just one way to respond to this brief question: "yes." I just do this to make sure the user wants to take this particular route. (This can get rid of time-wasters and tire kickers.)
I then add one more small question and choose email as the input type.
I then employ the typing widget. The two seconds that follow will imitate typing.
I then obtain the user's telephone number. You can accomplish this by asking a brief inquiry using the phone input type. One word of advice: Use the phone and email entry types. Obtaining a phone number or email address no longer feels like a laborious process.
The user only needs to tap the box that already contains their valuable phone number to give it away. Tap. Boom. Users feel much more comfortable sharing information when they're in a conversational widget than they might if they were, for example, filling out a form on a landing page.
Using the gif widget, now add a gif.
Then, ask them once more how they prefer to communicate. There are two options for responses: phone or email, hence the input type is multiple.
That's it, you are all done.
Know More: TikTok Seller Center
MobileMonkey Pricing and Plan
In addition to a subscription plan with more features and functionality, MobileMonkey also offers a free plan with basic chatbot functionality.
MobileMonkey offers several pricing plans, including:
Free Plan: This plan includes basic chatbot functionality, limited to 1 chatbot and up to 1000 contacts.
Pro Plan: This plan costs $59 per month and includes features such as unlimited chatbots, audience segmentation, and email marketing integration.
Pro Unicorn Plan: This plan costs $299 per month and includes features such as custom branding, advanced integrations, and team collaboration tools.
Team Plan: This plan is designed for larger organizations and includes advanced security and compliance features, as well as dedicated support. Pricing is available upon request.
To sum up, MobileMonkey is a chatbot platform that provides a selection of functionality and payment options to accommodate various business demands. It can assist organizations in automating consumer engagement and enhancing their marketing initiatives because to its user-friendly design and connectivity with other marketing channels. Basic chatbot functionality is offered by the platform's free plan, but more sophisticated features like audience segmentation, email marketing integration, social media marketing and bespoke branding are included in the subscription options. MobileMonkey is, all things considered, a useful tool for companies trying to increase client engagement and streamline their marketing initiatives.